LG 55SVH7F

55" SVH7F Series 0.44mm Even Bezel FHD IPS Video Wall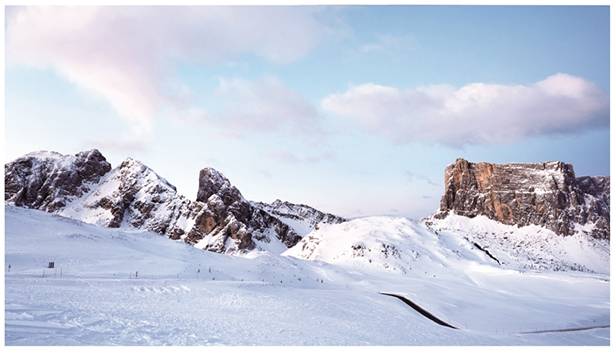 LG 55SVH7F 55" 0.44mm Even Bezel FHD IPS Video Wall
55" LCD, 1920x1080 (FHD), LED, 700 Nit, 1080p, HDMI (2), DP, DVI-D, RGB, Audio, USB 2.0, Black, 3-Year Warranty
#55SVH7F-A
Our Price: $5,166.00
Click here to jump to more pricing!
Overview:
0.44mm Even Bezel Video Wall
Making use of LG's pioneering display technology, the 0.44 mm Even-Bezel Video Wall provides the perfection of a truly seamless view along with vivid color representation throughout the assembled large screen. Minimizing bezel visibility unlocks great opportunities in various markets, even in places that previously had avoided video walls due to the visible bezels.
Size: 55"
Brightness(Typ.) : 700 cd/m²
Bezel : 0.44 mm (Even)
Depth : 86.5 mm
Interface : HDMI(2)/ DP/ DVI-D/ USB/ RS232C/ RJ45/ Audio/ IR
Smart Calibration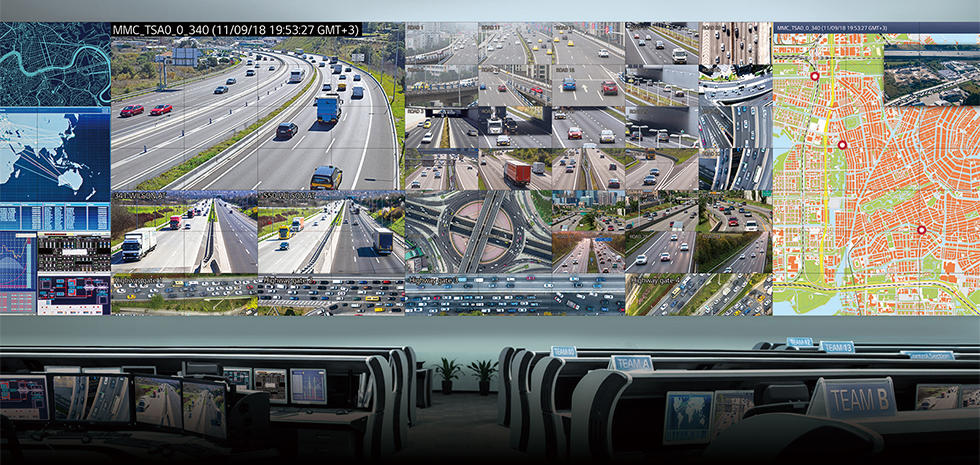 Groundbreaking 0.44mm Even Bezel
The unprecedented razor-thin bezel – 0.44 mm EVEN BEZEL and 0.88 mm BEZEL TO BEZEL – which has been verified by Nemko*, makes content look like the actual original image by depicting a subject perfectly true to form, without any distortions. Seamlessly assembled on a large video wall screen, the 55SVH7E will provide an even more immersive experience to viewers.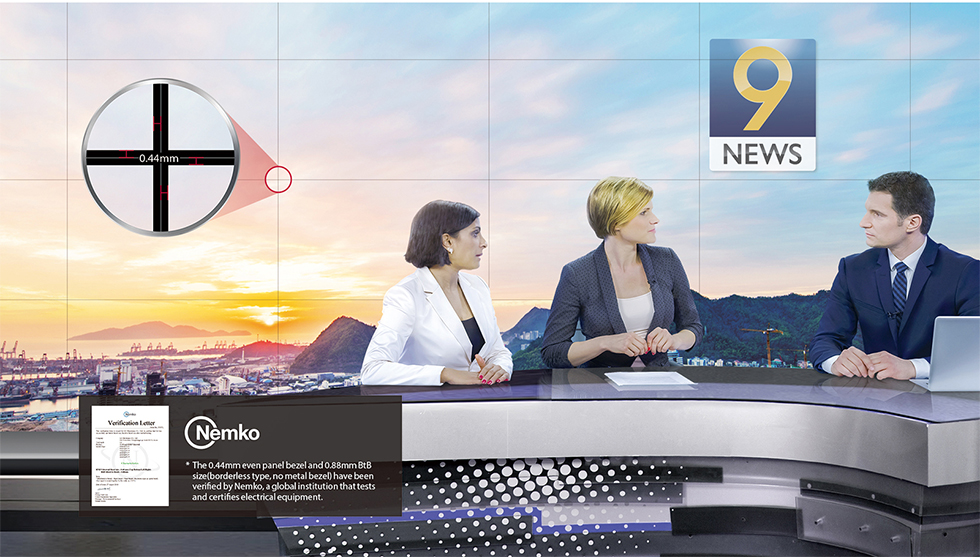 Features:
Vivid and Dynamic Picture Quality
Higher Viewing Angle
Large screens are usually positioned higher than human-eye level, making uniform picture quality essential for video walls. The viewing angle of the 55SVH7F-A is superior to that of conventional video walls, allowing it to display vivid colors throughout the screen with no distortion.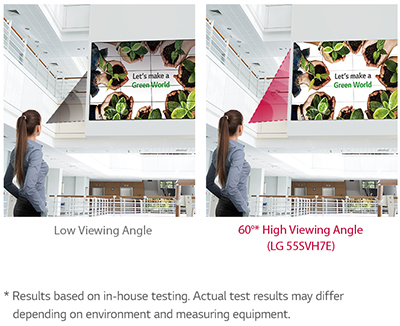 Wider Viewing Angle
It is well known that LG IPS panel technology enables better control of liquid crystals, which in turn allows the screen to be viewed from virtually any angle. Because of this, the 55SVH7F captures the attention of and captivates more viewers with lifelike colors, regardless of their viewing position.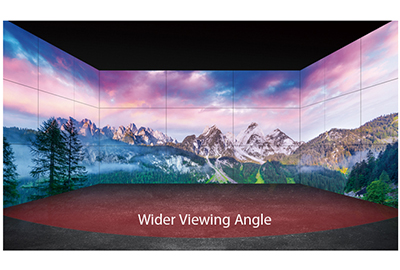 Uniform Color Expression
Poor uniformity around bezel boundaries can give the corners a darker appearance, which doesn't look good on a large screen. However, the 55SVH7F has enhanced uniformity, even within the four corners of the display, to deliver vivid and consistent color throughout the screen.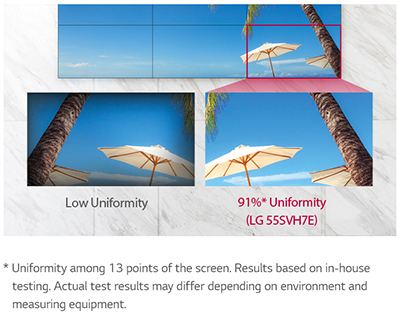 Image Gap Reduction
The 55SVH7F includes an image improvement algorithm that can reduce image gaps among tiled displays when playing back videos. Objects located on the bezel boundaries are adjusted for a seamless viewing experience.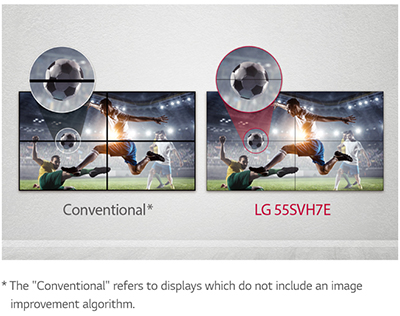 Smart Calibration
Smart Calibration is a solution that enables error-free calibration while dramatically reducing time and costs compared to existing sensor calibration methods. It analyzes not only the color property differences within each individual display but also the property differences between the connected displays.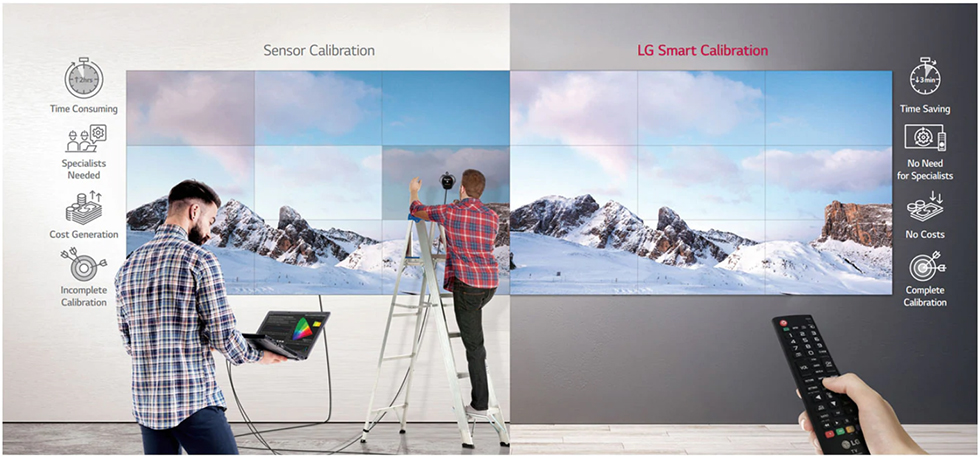 Powerful Smart Signage Platform
High Performance and Great Scalability
Thanks to its built-in SoC and webOS smart signage platform, the 55SVH7F can execute several tasks at once while providing smooth content playback without the need for a media player. As webOS supports HTML5 as a web-based platform and offers SDK (Soft Development Kit), it is even easier for SIs to build and optimize.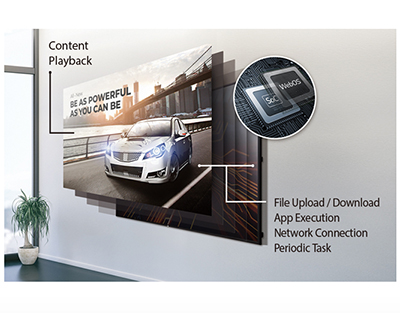 Flexible Content Creation
Several different videos* can be played simultaneously via web apps, and various animation effects, such as scaling or rotating, are added to content using CSS(Cascading Style Sheets) transition effects. Real-time streaming** is also available, providing the flexibility to organize and diversify content free from capacity limits.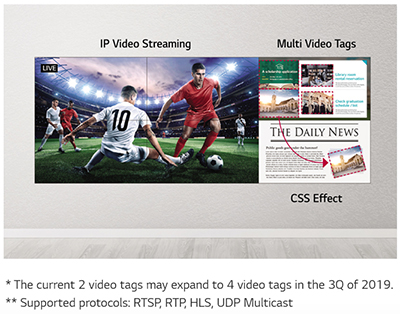 User-Friendly Smart Signage UX
Intuitive Menu Structure
The menu structure has been optimized for commercial use. It simplifies approach flows and groups similar functions together, adopting a more intuitive GUI for ease of use. This way, users can avoid having to do trialand-error when exploring desired functions and managing displays.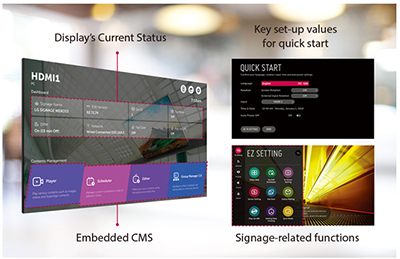 Dedicated GUI for Portrait Orientation
The conventional GUI (Graphic User Interface) was designed based on landscape-oriented consumer TV usage, so OSD(On Screen Display) wasn't well-suited for screens in portrait mode. The OSD of the 55SVH7F, however, consists of a long range menu with bigger font sizes and a 9:16 ratio.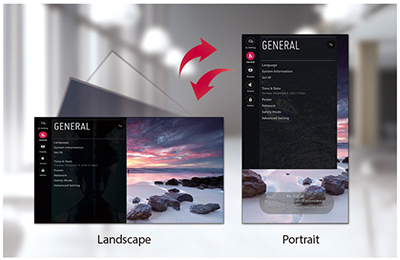 User Convenience
Easy Color Adjustment
Depending on the content, the color temperature of the display can be easily adjusted in increments of 100K using a remote control.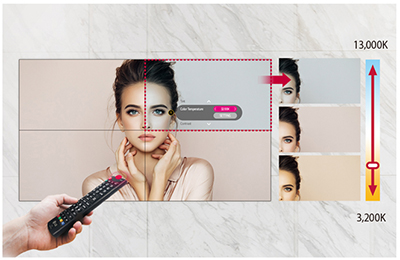 Simple White Balance Adjustment
In conventional video walls, white balance was adjustable only in "full-white" mode, but the 55SVH7F allows you to modify each value of grey scale to achieve more detailed and precise white balance adjustment.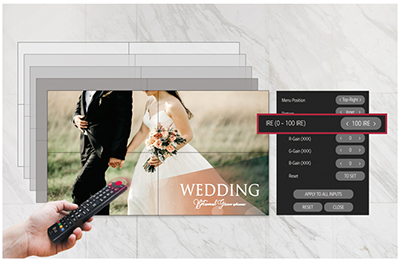 LAN Daisy Chain Management
A LAN daisy chain allows you to execute commands to control and monitor video walls and even update their firmwares at once.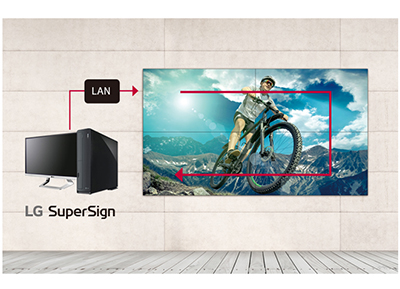 Real-Time Care Service
The maintenance gets easier and faster with an optional service Signage 365 Care*, a cloud service solution provided by LG service. It remotely manages status of displays in client workplaces for fault diagnosis and remote-control services, ensuring the stable operation of a client's business.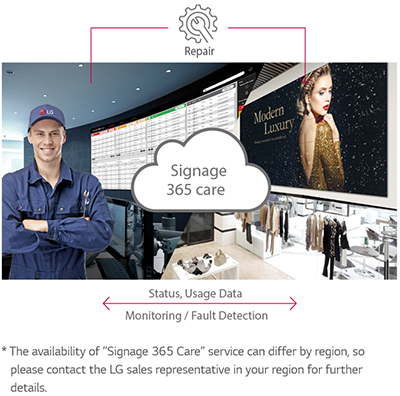 Specifications:
55SVH7F Specifications
Panel
Screen Size
55"
Panel Technology
IPS
Native Resolution
1920 x 1080 (FHD)
Brightness
700 nit
Contrast Ratio
1,200:1
Dynamic CR
500,000 : 1
Color Gamut
NTSC 72 %
Viewing Angle (H x V)
178 x 178
Color Depth
1.07 Billion Colors (10 bit)
Response Time
8ms (G to G)
Surface Treatment
Haze 3%
Operation Hours
24 Hours
Orientation
Portrait & Landscape
Connectivity
Input
HDMI (2), DP, DVI-D, Audio, USB 2.0 Type A
Output
DP, Audio
External Control
RS232C In / Out, RJ45 (LAN) In / Out, IR In
Physical Specification
Bezel Color
Black
Bezel Width
0.44 mm (Even Bezel)
Monitor Dimension (W x H x D)
1,210.51 × 681.22 × 86.5 mm
Weight (Head)
37.1 lbs / 16.8 kg
Carton Dimensions (W x H x D)
1,353.0 x 855.0 x 263.0 mm
Packed Weight
52.1 lbs / 23.6 kg
Handle
Yes
VESA Standard Mount Interface
600mm x 400mm
Special Features
Special Features
Internal Memory (8 GB), Temperature Sensor, Current Sensor, BLU Sensor, Local Key Operation, webOS 4.0, Embedded CMS (Local Contents Scheduling, Group Manager), USB Plug & Play, Fail Over, Background Image (No Signal Image), Sync Mode (RS-232C Sync, Local Network Sync), Video Tag (2), Play via URL, Rotation (Screen Rotation, External Input Rotation), Gapless Playback, Tile Mode Setting (Max. 15 × 15), Setting Data Cloning, SNMP, ISM Method, Auto Set ID, Status Mailing, Control Manager, Crestron ConnectedⓇ2), Smart Energy Saving, PM Mode, Wake on LAN, HDMI-CEC3), SI Server Setting, webRTC, Pro:Idiom, W/B Setting by Grey Scale, Scan Inversion
Environmental Conditions
Operating Temperature Range
32 °F to 104 °F / 0°C to 40°C
Operating Humidity Range
10 % to 80 %
Power
Power Supply
100-240V~, 50/60Hz
Power Type
Built-In Power
Power Consumption - Typ. / Max
210 W / 250 W
Power Consumption - BTU (British Thermal Unit)
717 BTU / Hr (Typ.), 853 BTU / Hr (Max.)
Standard (Certification)
Safety
CB / NRTL
EMC
FCC Class "A" / CE / KC
ErP
Yes (EU Only)
Media Player Compatibility
OPS Type Compatible
Yes (Piggyback)
Software Compatibility
Software
SuperSign CMS, SuperSign Control / Control+, SuperSign WB, SuperSign Media Editor, Signage365Care
Accessory
Basic
Remote Controller, Power Cord, RS232C Cable, LAN Cable, DP Cable, IR Receiver, Guide Bracket, Screws, Manual
Optional
Wall Mount (Landscape : WM-L640V, Portrait : WM-P640V), OPS Kit (KT-OPSF)
Special Feature
Smart Calibration
Yes
Warranty
Warranty
3-Year Limited Warranty (Parts and Labor)
Pricing Notes:
Pricing and product availability subject to change without notice.
LG Display Products
Video Walls
LG 55SVH7F 55" 0.44mm Even Bezel FHD IPS Video Wall
55" LCD, 1920x1080 (FHD), LED, 700 Nit, 1080p, HDMI (2), DP, DVI-D, RGB, Audio, USB 2.0, Black, 3-Year Warranty
#55SVH7F-A
Our Price: $5,166.00
3 Years Warranties
3 Years TTL Term Coverage with 24 Hour Quick Swap for 55'' Video Wall
#MS55N0S100V
Our Price: $453.00
3 Years TTL Term Coverage with 24 Hour Quick Swap & White-Glove for 55'' Video Wall
#MS55N0S1I0V
Our Price: $566.00
3 Years TTL Term Coverage with 48 Hour Quick Swap for 55'' Video Wall
#MS55N0S200V
Our Price: $428.00
3 Years TTL Term Coverage with 48 Hour Quick Swap & White-Glove for 55'' Video Wall
#MS55N0S2I0V
Our Price: $541.00
4 Years Warranties
4 Years TTL Term Coverage for 55'' Video Wall
#MS55E10000V
Our Price: $201.00
4 Years TTL Term Coverage with 24 Hour Quick Swap for 55'' Video Wall
#MS55E1S100V
Our Price: $805.00
4 Years TTL Term Coverage with 24 Hour Quick Swap & White-Glove for 55'' Video Wall
#MS55E1S1I0V
Our Price: $970.00
4 Years TTL Term Coverage with 48 Hour Quick Swap for 55'' Video Wall
#MS55E1S200V
Our Price: $754.00
4 Years TTL Term Coverage with 48 Hour Quick Swap & White-Glove for 55'' Video Wall
#MS55E1S2I0V
Our Price: $920.00
5 Years Warranties
5 Years TTL Term Coverage for 55'' Video Wall
#MS55E20000V
Our Price: $402.00
5 Years TTL Term Coverage with 24 Hour Quick Swap for 55'' Video Wall
#MS55E2S100V
Our Price: $1,107.00
5 Years TTL Term Coverage with 24 Hour Quick Swap & White-Glove for 55'' Video Wall
#MS55E2S1I0V
Our Price: $1,328.00
5 Years TTL Term Coverage with 48 Hour Quick Swap for 55'' Video Wall
#MS55E2S200V
Our Price: $1,056.00
5 Years TTL Term Coverage with 48 Hour Quick Swap & White-Glove for 55'' Video Wall
#MS55E2S2I0V
Our Price: $1,277.00