LG 55EW5F

55" Transparent OLED Signage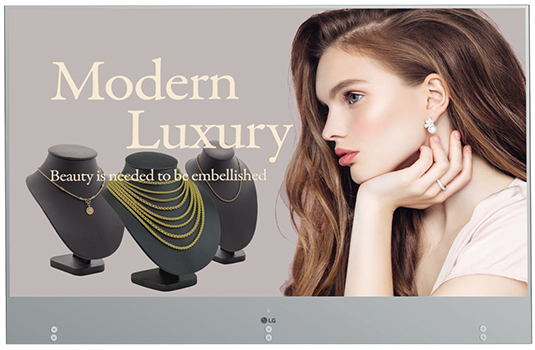 LG Display Products
OLED Signage Display
LG 55EW5F 55" Transparent OLED Signage
55" OLED, 1920 x 1080 (FHD), 400 Nit, 1080p, HDMI, DP, USB , RS232C In/out, RJ45, 3-Year Warranty

#55EW5F-A
Our Price: $25,995.00
Click here to jump to more pricing!
Overview:
A New Dimension to Digital Signage
LG Transparent OLED signage illuminates spaces that once were hidden away behind the display, completely harmonizing with its surroundings. Boasting vivid and clear colors with high transparency, this display provides valuable information about as well as visual enhancements to objects placed behind it, giving viewers an impressive "wow" factor.
Size: 55"
Brightness(Typ.): 400 cd/m² (APL 25%, without Glass)
Transparency(Typ.) : 38% (Panel)
Bezel : 7.9 mm (T/B/L), 121.7 mm (B)
Interface : HDMI/DP/USB(2)/ RS232C/ RJ45/ Audio/ IR
IEC 61373 Standard Verified
Features:
A New Level of See-through View
LG Transparent OLED signage illuminates spaces that once were hidden away behind the display, completely harmonizing with its surroundings.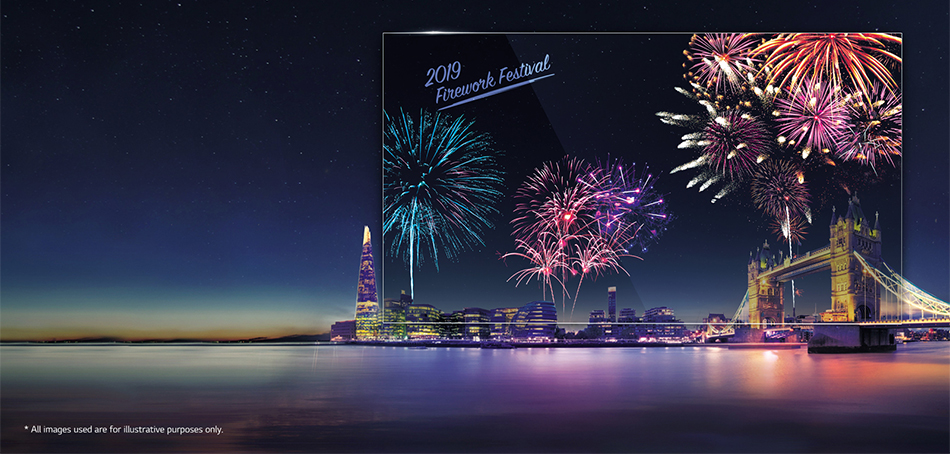 Unrivaled Picture Quality
LG's OLED technology, featuring self-lighting pixels, maintains accurate and vivid colors even when the display becomes transparent. It brings content to life, making it difficult for people to separate content from the real objects placed behind the screen.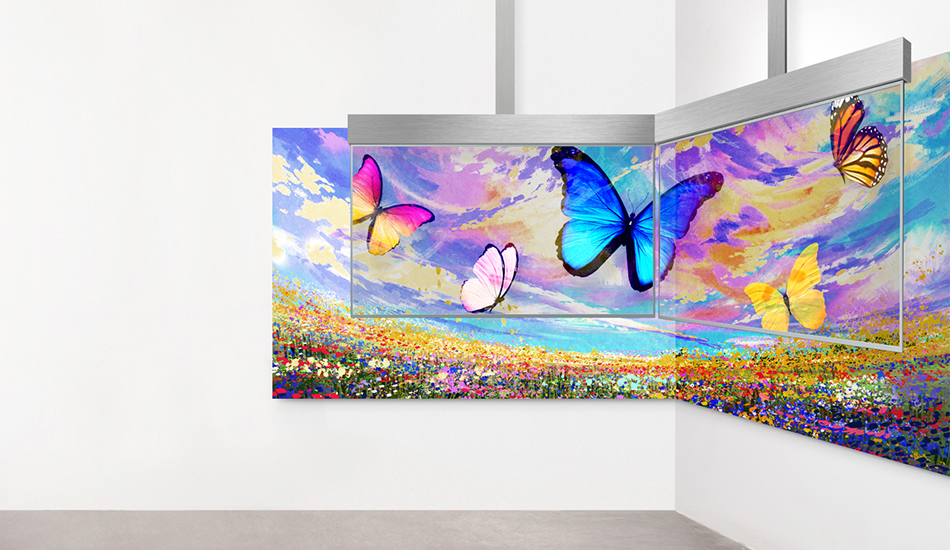 High Transparency
Thanks to its high transparency (38%), much higher than conventional LCD transparent displays, LG Transparent OLED signage blends into its surroundings seamlessly and naturally. The display's see-through view turns places where it is installed into open and interactive spaces.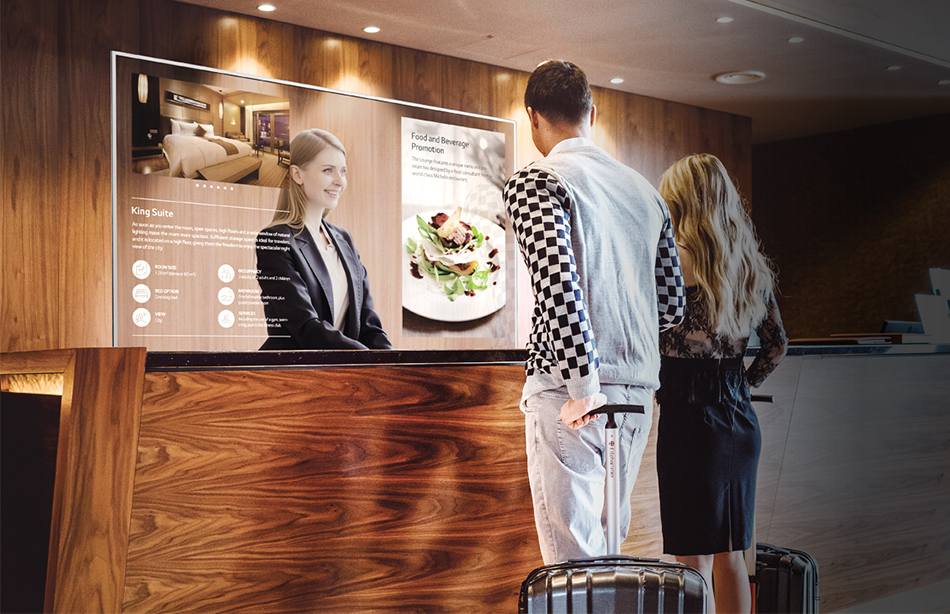 Customizable and Expandable Design
LG Transparent OLED signage is designed as a semi-assembled display, meaning you can install it in various ways to fit into existing structures and spaces. There is no limit to the applications of Transparent OLED signage, and it can complement any venue in which it is installed.

* Installation accessories are not supplied by LG.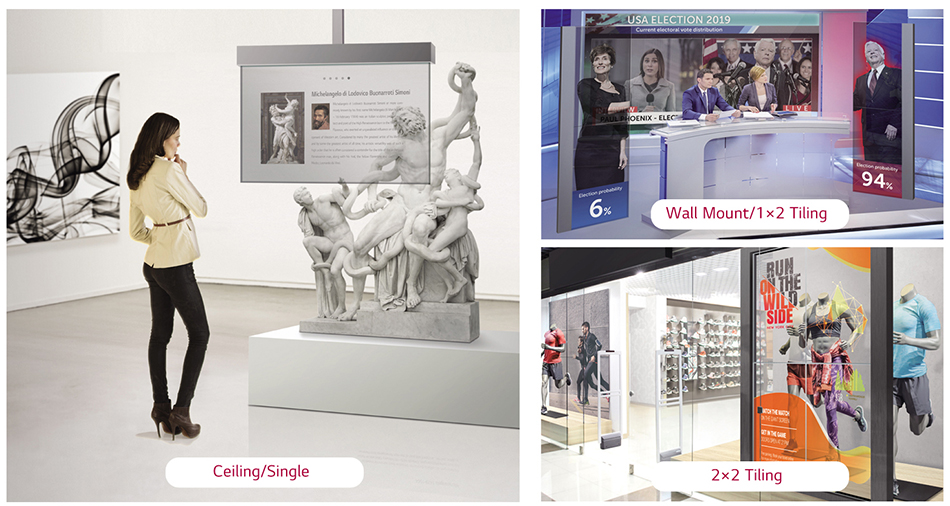 See Through
Effective Information Delivery
While clearly showing objects behind the screen, LG Transparent OLED signage overlays information right over them so that viewers can easily see both the object and the relevant information without having to change their view.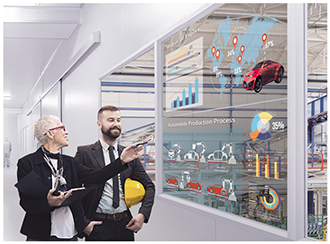 Visual Feast
AR Effects in the Dark
Using LG transparent OLED signage, you can surprise viewers with AR effects in the dark. The content displayed seems life-like, adding another "wow" factor to the viewing experience.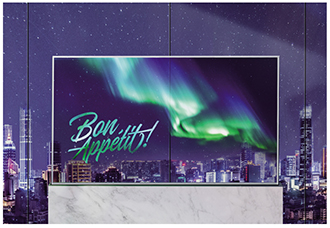 Product Durability
Robust Design for Safety
The tempered front glass protects the screen from external impact, and its verified safety design means it is reliable enough to endure shock and vibration caused by the surrounding environment, such as moving trains.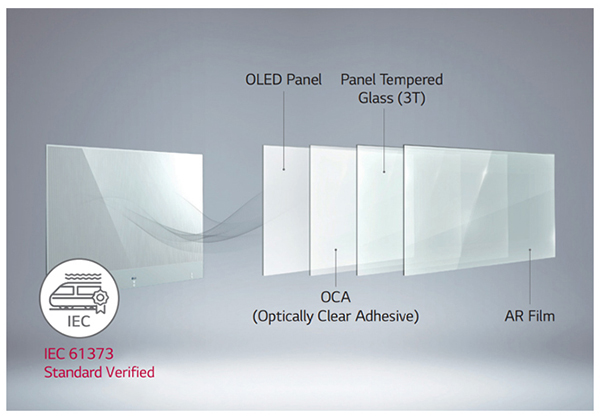 Specifications:
55EW5F-A Specifications
Panel
Screen Size
55"
Panel Technology
OLED
Aspect Ratio
16 : 9
Native Resolution
1,920 x 1,080 (FHD)
Brightness (Typ.)
400/150 cd/m2 (Average Picture Level 25%/100%, without Glass)
Transparency (Typ.)
38% (Panel)
Viewing Angle (H x V)
178 x 178
Response Time
1 ms (G to G)
Surface Treatment (Haze)
Hard Coating (2H), Anti-reflection Treatment of the Front Polarizer (Reflectance Typ. 14%)
Life Time (Typ.)
30,000 Hrs
Operation Hours
18 Hrs / 7 days *Moving Video Only
Orientation
Landscape & Portrait
Connectivity
Input
HDMI, DP, USB 2.0 (2)
Output
DP, Audio
External Control
RS232C In/out, RJ45 (LAN) In/out, IR In
Physical Specification
Bezel Color
Silver (Mirror)
Bezel Width
7.9 / 7.9 / 7.9 / 121.7 mm (T/L/R/B)
Monitor Dimension (W x H x D)
(Head) 1,225.53 x 810.1 x 6.6 mm
(Signage Box) 782.8 x 238.4 x 34.7 mm
Weight
(Head) 13.9 kg
(Signage Box) 3.4 kg
Carton Dimensions (W x H x D)
1,329 x 898 x 191 mm
Packed Weight
49.4lb / 22.4 kg
Special Features
Special Features
Internal Memory (64GB), Temperature Sensor, Embedded CMS, Fail Over, Content Sync., OSD Rotation, Lock Mode, Content Rotation, Gapless Playback, Tile Mode Setting, Setting Data Cloning, Firmware Update by Network, SNMP, ISM Mode, Control Manager, Crestron ConnectedⓇ2), DPM, PM Mode, Wake on LAN, SI Server Setting, webRTC
Environmental Conditions
Operating Temperature Range
32°F ~ 104°F / 0°C ~ 40°C
Operating Humidity Range
10 % to 80 %
Power
Power Supply
100-240V~, 50/60Hz
Power Type
Built-In Power
Power Consumption - Typ.
309 W *8 color bar
Power Consumption - Max.
318 W *8 color bar
Standard (Certification)
Safety
IEC 60950-1 / EN 60950-1 / UL 60950-1
EMC
FCC Class "A" / CE / KC
ErP / Energy Star
Yes / No
Media Player Compatibility
OPS Type Compatible
No
External Media Player Attachable
Yes
Software Compatibility
Content Management Software
SuperSign CMS
Control and Monitoring Software
SuperSign Control / Control+
Accessory
Basic
Remote Controller, Power Cord, QSG, IR Receiver, Regulation Book, Phone to RS232C Gender, RS232 Cable (4p-4p), FFC Cables (for Connection between Panel and Signage Box), DP Cable, LAN Cable, LC (VLC Cable), Tapes, Screws, Shield Cover Assy', Rubber Dampers
Warranty
Warranty
3-Year Limited Warranty (Parts and Labor)
Pricing Notes:
Pricing and product availability subject to change without notice.
LG Display Products
OLED Signage Display
LG 55EW5F 55" Transparent OLED Signage
55" OLED, 1920 x 1080 (FHD), 400 Nit, 1080p, HDMI, DP, USB , RS232C In/out, RJ45, 3-Year Warranty

#55EW5F-A
Our Price: $25,995.00
LG Warranties
3 Years Warranties
3 Years TTL Term Coverage with 24 Hour Quick Swap for 55'' MNT Signage

#MS55N0S100U
Our Price: $184.00
3 Years TTL Term Coverage with 24 Hour Quick Swap & White-Glove for 55'' MNT Signage

#MS55N0S1I0U
Our Price: $203.00
3 Years TTL Term Coverage with 48 Hour Quick Swap for 55'' MNT Signage

#MS55N0S200U
Our Price: $181.00
3 Years TTL Term Coverage with 48 Hour Quick Swap & White-Glove for 55'' MNT Signage

#MS55N0S2I0U
Our Price: $200.00
4 Years Warranties
4 Years TTL Term Coverage for 55'' MNT Signage

#MS55E10000U
Our Price: $133.00
4 Years TTL Term Coverage with 24 Hour Quick Swap for 55'' MNT Signage

#MS55E1S100U
Our Price: $296.00
4 Years TTL Term Coverage with 24 Hour Quick Swap & White-Glove for 55'' MNT Signage

#MS55E1S1I0U
Our Price: $395.00
4 Years TTL Term Coverage with 48 Hour Quick Swap for 55'' MNT Signage

#MS55E1S200U
Our Price: $266.00
4 Years TTL Term Coverage with 48 Hour Quick Swap & White-Glove for 55'' MNT Signage

#MS55E1S2I0U
Our Price: $391.00
5 Years Warranties
5 Years TTL Term Coverage for 55'' MNT Signage

#MS55E20000U
Our Price: $284.00
5 Years TTL Term Coverage with 24 Hour Quick Swap for 55'' MNT Signage

#MS55E2S100U
Our Price: $409.00
5 Years TTL Term Coverage with 24 Hour Quick Swap & White-Glove for 55'' MNT Signage

#MS55E2S1I0U
Our Price: $594.00
5 Years TTL Term Coverage with 48 Hour Quick Swap for 55'' MNT Signage

#MS55E2S200U
Our Price: $402.00
5 Years TTL Term Coverage with 48 Hour Quick Swap & White-Glove for 55'' MNT Signage

#MS55E2S2I0U
Our Price: $588.00