LG 49VL7D

49" Class Video Wall with Clear Visibility and Great Immersion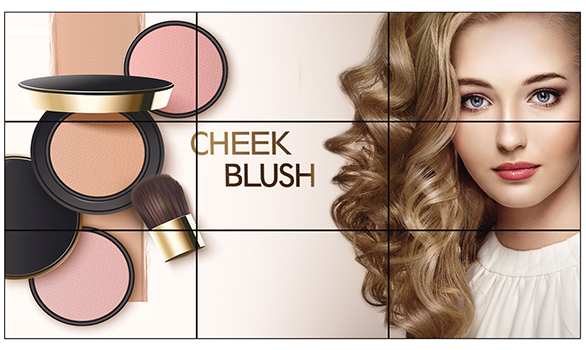 LG Display Products
Video Walls
LG 49VL7D 49" Narrow Bezel Video Wall
49" LCD, 1920x1080 (FHD), LED, 700 Nit, 1080p, HDMI, DVI-D, RGB, USB, Black, 3-Year Warranty

#49VL7D-A
Our Price: $2,105.00
Click here to jump to more pricing!
Overview:
The 49VL7D creates entertaining and memorable experiences for passengers while providing various types of information and enhancing the value of the space. This model effectively delivers clear and vivid content with 700 cd/m2 brightness, which is recommended for brightly lit locations such as airports or large-scale shopping malls.
Size: 49"
Brightness(Typ.) : 700 cd/m²
Bezel: 2.3mm(Left/Top) / 1.2mm(Right/Bottom)
Depth : 89.7mm
Interface : HDMI/ DVI-D/ RGB/ RJ45/ RS232C/ USB
Features:
Clear Visibility
High Visibility
The 700 cd/m2 brightness is enough to stand out against the surrounding background, so signage can attract passerby and delivers content vividly and effectively.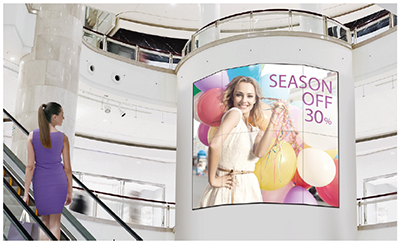 Consistent White Balance
Through Video Wall Image Creation (VIC) technology, color and brightness differences are compensated in circuit part with an algorithm to make the panels into a same characteristic so that each video wall maintains the consistent white balance.

Immersive Viewing Experience
Ultra Narrow Bezel
The 3.5mm ultra narrow bezel size creates immersive and seamless viewing experiences on assembled video wall screens.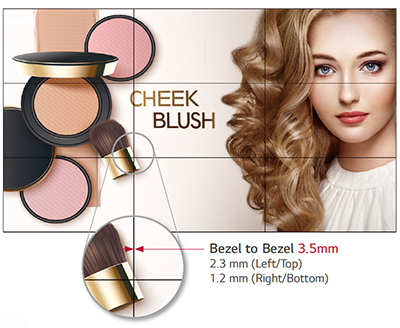 Wide Viewing Angle
Stable image reproduction is critical in video walls, as it is usually installed in places above eye level and is seen from various angles. Thanks to the IPS panel and the high half luminance angle, VL7D delivers the best picture quality from any viewer position.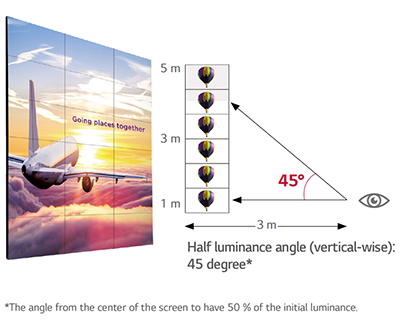 Convenient Management
Dynamic Configuration
Flexible content editing is possible in various layouts, including a regular matrix grid or an irregular video-wall, in a timely and cost-effective manner without the need for an expensive video wall console.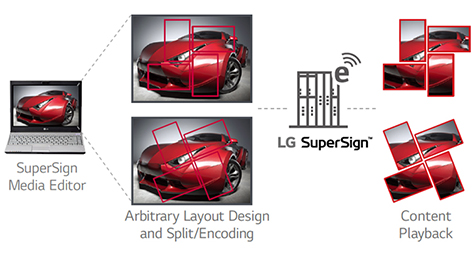 Conformal Coating
Conformal Coating power board reliability is enhanced with conformal coating that protects against dust, iron powder, humidity and other harsh conditions.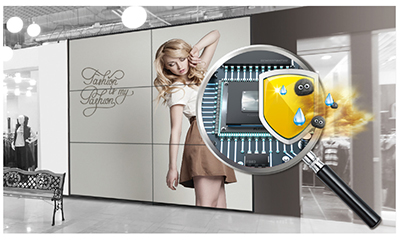 Specifications:
49VL7D Specifications
Panel
Screen Size
49" (48.50" diagonal)
Aspect Ratio
16 : 9
Native Resolution
1920 x 1080 (FHD)
Brightness
700 cd/m2
Viewing Angle (H x V)
178 x 178
Surface Treatment
Hard Coating (3H), Anti-glare Treatment of the Front Polarizer (Haze 3%)
Life Time (Typ.)
50,000 Hours
Operation Hours
24 Hours
Orientation
Portrait & Landscape
Connectivity
Input
HDMI, DVI-D, RGB, USB
Output
DVI-D
External Control
RS232C In/out, RJ45 In, IR Reveiver In
Physical Specification
Bezel Color
Black
Bezel Width
2.3 mm (L/T) / 1.2 mm (R/B)
Monitor Dimension (W x H x D)
1,077.6 x 607.8 x 89.7 mm
Weight (Head)
39.3 lbs / 17.8 kg
Carton Dimensions (W x H x D)
1,214 x 778 x 263 mm
Packed Weight
50.3 lbs / 22.8 kg
VESA Standard Mount Interface
600mm x 400mm
Special Features
Special Features
Temperature Sensor, Tile Mode (Up to 15x15), Natural Mode @Tile Mode, ISM Method, DPM Select, Energy Saving, Smart Energy Saving, File Play with USB
Environmental Conditions
Operating Temperature Range
32 °F to 104 °F / 0°C to 40°C
Operating Humidity Range
10 % to 80 %
Power
Power Supply
100-240V~, 50/60Hz
Power Type
Built-In Power
Power Consumption - Typ.
130 W
Power Consumption - Smart Energy Saving
50 W
Standard (Certification)
Safety
UL / cUL / CB / TUV / KC
EMC
FCC Class "A" / CE / KCC
ErP / Energy Star
NA / Energy Star 7.0 (US Only)
Media Player Compatibility
Slot PC compatible (optional)
No
External Media player Attachable
Yes
Software Compatibility
Content Management Software
SuperSign CMS
Control and Monitoring Software
SuperSign C
Accessory
Basic
Remote Controller, Power Cable, DVI Cable, Manual, IR Receiver, RS232C Cable, Guide Bracket, Screw
Optional
Wall Mount (Landscape: WM-L640V, Portrait: WM-P640V)
Warranty
Warranty
3-Year Limited Warranty (Parts and Labor) | Extended Warranties Available
Pricing Notes:
Pricing and product availability subject to change without notice.
LG Display Products
Video Walls
LG 49VL7D 49" Narrow Bezel Video Wall
49" LCD, 1920x1080 (FHD), LED, 700 Nit, 1080p, HDMI, DVI-D, RGB, USB, Black, 3-Year Warranty

#49VL7D-A
Our Price: $2,105.00
LG Warranties
3 Years Warranties
3 Years TTL Term Coverage with 24 Hour Quick Swap for 49'' Video Wall

#MS49N0S100V
Our Price: $281.00
3 Years TTL Term Coverage with 24 Hour Quick Swap & White-Glove for 49'' Video Wall

#MS49N0S1I0V
Our Price: $387.00
3 Years TTL Term Coverage with 48 Hour Quick Swap for 49'' Video Wall

#MS49N0S200V
Our Price: $266.00
3 Years TTL Term Coverage with 48 Hour Quick Swap & White-Glove for 49'' Video Wall

#MS49N0S2I0V
Our Price: $371.00
4 Years Warranties
4 Years TTL Term Coverage for 49'' Video Wall

#MS49E10000V
Our Price: $125.00
4 Years TTL Term Coverage with 24 Hour Quick Swap for 49'' Video Wall

#MS49E1S100V
Our Price: $500.00
4 Years TTL Term Coverage with 24 Hour Quick Swap & White-Glove for 49'' Video Wall

#MS49E1S1I0V
Our Price: $655.00
4 Years TTL Term Coverage with 48 Hour Quick Swap for 49'' Video Wall

#MS49E1S200V
Our Price: $469.00
4 Years TTL Term Coverage with 48 Hour Quick Swap & White-Glove for 49'' Video Wall

#MS49E1S2I0V
Our Price: $624.00
5 Years Warranties
5 Years TTL Term Coverage for 49'' Video Wall

#MS49E20000V
Our Price: $250.00
5 Years TTL Term Coverage with 24 Hour Quick Swap for 49'' Video Wall

#MS49E2S100V
Our Price: $688.00
5 Years TTL Term Coverage with 24 Hour Quick Swap & White-Glove for 49'' Video Wall

#MS49E2S1I0V
Our Price: $894.00
5 Years TTL Term Coverage with 48 Hour Quick Swap for 49'' Video Wall

#MS49E2S200V
Our Price: $656.00
5 Years TTL Term Coverage with 48 Hour Quick Swap & White-Glove for 49'' Video Wall

#MS49E2S2I0V
Our Price: $863.00