LG 32SM5KE

32" Versatile Signage with a User-friendly Smart Platform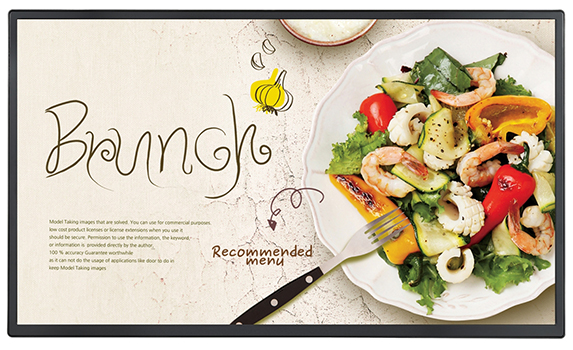 3 Years TTL Term Coverage with 24 Hour Quick Swap for 32'' MNT Signage
#MS32N0S100U
Our Price: $67.00
Click here to jump to more pricing!
Overview:
Versatile Performance with a User-friendly Smart Platform
The SM5KE series provides dynamic content with clear picture quality, enhancing advertising effectiveness and helping to generate demand for your brand and products. LG webOS 4.0 Smart Platform has not only been optimized to develop and run a variety of customized apps, but user convenience has been enhanced with intuitive UI and value-added functions.
Size: 32"
User-Friendly Smart Platform
Content Display and Management
Powerful Wireless Capabilities
Reliable Operation
Value-added Offerings
Industrial Design
Features:
User-Friendly Smart Platform
Simple Set-up & Customization
The LG webOS 4.0 smart signage platform supports HTML5 as a web-based platform and offers an SDK (Software Development Kit), so System Integrators can easily build and execute their own apps. Also, it is easy to use with intuitive menu and usable without instructions, as all of signage-related functions can be indexed in one menu.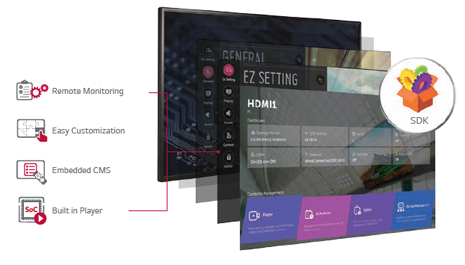 Embedded Content Management
The embedded CMS (Content Management System) allows you to edit and play content, schedule a playlist and even group and control signage via remote control, mouse or even mobile phone, without needing a separate PC or software. This makes content management much easier and user-friendly.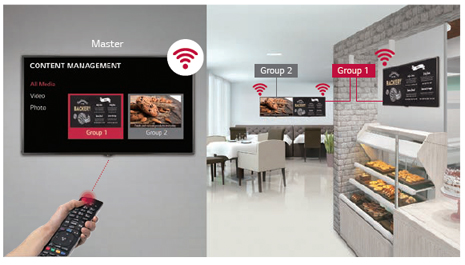 Content Display and Management
Multi Screen Mode
PBP (Picutre-By-Picture) and PIP (Picture-In-Picture) feature gives a chance to compose up to 2 divided split screen on landscape or portrait display format. This gives great flexibility to users to allocate space for each content source.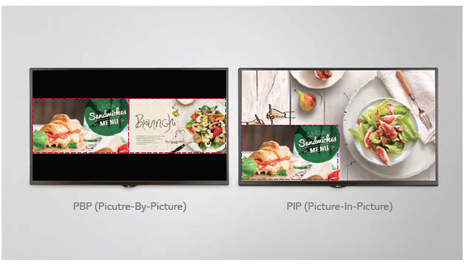 Video Streaming
SM5KE series can play real-time streaming content by supporting various types of IP video streaming protocols such as RTSP/RTP/HLS and UDP Multicast*. This easy-to-manage content system is free from capacity limits for content playback and can provide live broadcasts in real time.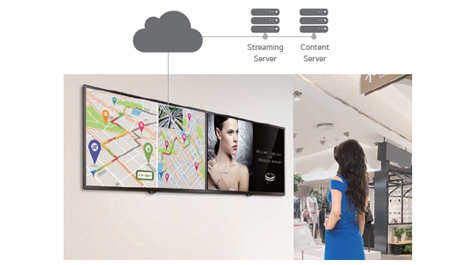 Powerful Wireless Capabilities
Real-time Promotion
With Beacon and Bluetooth Low Energy (BLE), shop managers can provide coupons and information in realtime.
Content Sharing
Content Mirroring among devices is more convenient on a Wi-Fi network.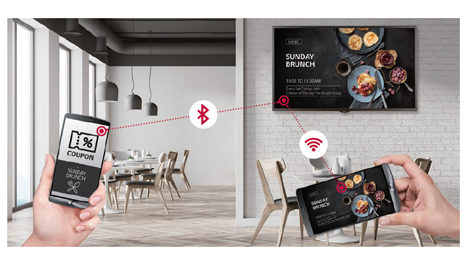 Wireless Access Point
The SM5KE series operates as a virtual router which can be an wireless access point for mobile devices.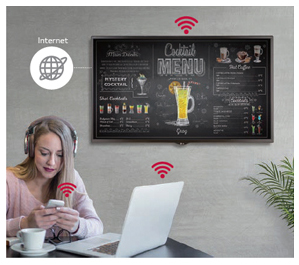 Reliable Operation
Quick Web Access via Proxy Server
Web access speed and security can be improved by supporting proxy server. Managers can not only block unwanted websites, but also quickly access to resources using caches.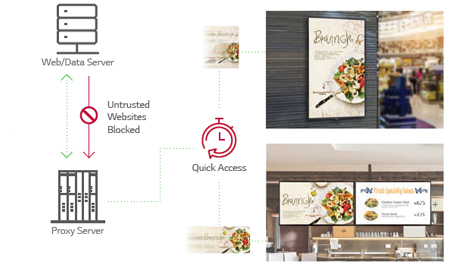 Secured Network Communication
HTTPS* protocol support ensures secure communication between clients and servers. Content or documents using HTTPS can be shared and displayed on digital signage, so owners can protect their critical business assets from unwelcome pirates.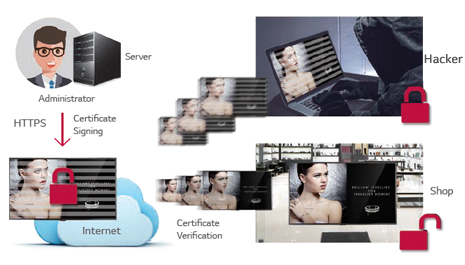 Value-added Offerings
Thermal Printer Supported
Users can easily enable the thermal printer solution* by plugging a USB into the display. This can function as a ticketing machine for various locations such as restaurants, movie theaters, banks and airports.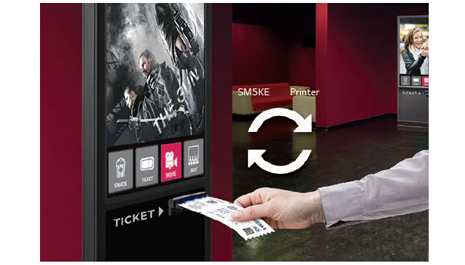 Real-time Care Service
The maintenance gets easier and faster with an optional service Signage 365 Care, a cloud service solution provided by LG service. It remotely manages status of displays in client workplaces for fault diagnosis and remote-control services, ensuring the stable operation of a client's business.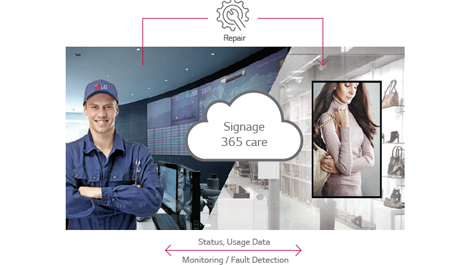 Industrial Design
Detachable Logo & Built-in Speaker
The detachable logo allows for installation in the desired orientation in landscape or portrait mode, making it easy for the user to arrange the signage. Also, sound can be played from built-in speakers, giving advertisements greater impact.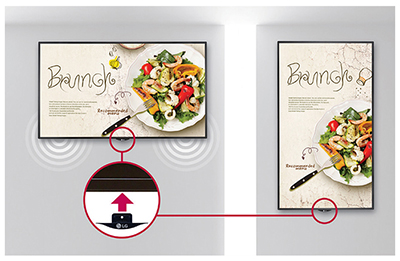 Conformal Coating
Electronics products can be often unavoidably exposed to dust and water during maintenance. LG applies a conformal coating on major circuit boards to minimize such circumstances by protecting against dust, iron powder, humidity, etc.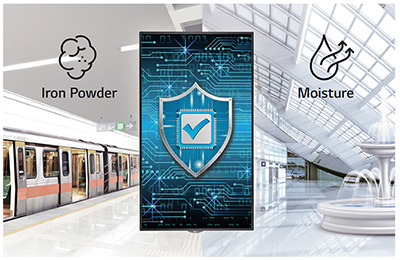 Specifications:
32SM5KE Specifications
Panel
Screen Size
32"
Panel Technology
IPS
Aspect Ratio
16 : 9
Native Resolution
1,920 x 1,080 (FHD)
Brightness
400 nits
Contrast Ratio
1,100:1
Viewing Angle (H x V)
178 x 178
Response Time
10 ms (G to G BW), 7.1 ms (WOT)
Surface Treatment
Hard Coating (3H), Anti-glare Treatment of the Front Polarizer (Haze 1% (Typ.))
Life Time (Min.)
50,000 hours
Guaranteed Operating Hour
24 Hours
Orientation
Landscape & Portrait
Connectivity
Input
HDMI (3), DP, DVI-D, Audio, USB 3.0
Output
DP (SST), Audio (Off/Fixed/Variable)
External Control
RS232C In/out, RJ45 In, IR Receiver In
Physical Specification
Bezel Color
Black
Bezel Width
13 mm (T/R/L), 18 mm (B)
Monitor Dimension (W x H x D)
28.7" x 16.9" x 2.2" / 729.4 x 428.9 x 55.5 mm
Weight (Head)
11.9 lbs / 5.4 kg
Monitor with Optional Stand Dimensions (W x H x D)
28.7" x 18.9" x 6.1" / 729.4 x 481 x 154.2 mm
Weight (Head+Stand)
13.7 lbs / 6.2 kg
Carton Dimensions (W x H x D)
31.2" x 20.1" x 5.2" / 810 x 510 x 132 mm
Packed Weight
14.8 lbs / 6.7 kg
VESA Standard Mount Interface
200 mm x 200 mm
Special Features
Special Features
Internal Memory 8GB (System 4GB, Available 3.6GB), Built-in Wi-Fi, Temperature Sensor, Auto Brightness Sensor, Current Sensor, webOS 4.0, Embedded CMS, Fail Over, Image Customization, PIP/PBP(2), Screen Share, Video Tag (2), Play via URL, Gapless Playback, Tile Mode Setting (Up to 15x15), Setting Data Cloning, Firmware Update by Network, SNMP (Ver. 1.4), Control Manager, Crestron Connected, Extron IP Link, Smart Energy Saving, Beacon, HDMI-CEC (2), Built-in Speaker (10W+10W)
Environmental Conditions
Operating Temperature Range
32° F to 104° F / 0°C to 40°C
Operating Humidity Range
10 % to 80 %
Power
Power Supply
100-240 V~, 50/60 Hz
Power Type
Built-In Power
Power Consumption - Typ. / Max.
60 W (TBD) / 85 W
Power Consumption - Smart Energy Saving
45 W (TBD)
Certification
Safety
IEC 60950-1 / EN 60950-1 / UL 60950-1
EMC
FCC Class "A" / CE / KC
ErP / Energy Star
N/A / Yes (Energy Star 7.0)
Media Player Compatibility
OPS Type Compatible
Yes
External Media Player Attachable
Yes
Software Compatibility
Content Management Software
SuperSign CMS
Control and Monitoring Software
SuperSign Control/Control+
Accessory
Basic
Remote Controller (2ea Batteries Included), Power Cord, QSG, HDMI Cable, Regulation Book, Phone to RS232C Gender, Memory Cover
Optional
Stand (ST-322T), Media Player, Wall Bracket (LSW230B), VESA Adapter (AM-B220S), OPS Kit (KT-OPSA), HDBaseT (EB-B100), Touch Overlay (KT-T32E)
Warranty
Warranty
3 Year Limited Warranty
Pricing Notes:
Pricing and product availability subject to change without notice.
LG Display Products
3 Years Warranties
3 Years TTL Term Coverage with 24 Hour Quick Swap for 32'' MNT Signage
#MS32N0S100U
Our Price: $67.00
3 Years TTL Term Coverage with 24 Hour Quick Swap & White-Glove for 32'' MNT Signage
#MS32N0S1I0U
Our Price: $103.00
3 Years TTL Term Coverage with 48 Hour Quick Swap for 32'' MNT Signage
#MS32N0S200U
Our Price: $65.00
3 Years TTL Term Coverage with 48 Hour Quick Swap & White-Glove for 32'' MNT Signage
#MS32N0S2I0U
Our Price: $103.00
4 Years Warranties
4 Years TTL Term Coverage for 32'' MNT Signage
#MS32E10000U
Our Price: $55.00
4 Years TTL Term Coverage with 24 Hour Quick Swap for 32'' MNT Signage
#MS32E1S100U
Our Price: $116.00
4 Years TTL Term Coverage with 24 Hour Quick Swap & White-Glove for 32'' MNT Signage
#MS32E1S1I0U
Our Price: $200.00
4 Years TTL Term Coverage with 48 Hour Quick Swap for 32'' MNT Signage
#MS32E1S200U
Our Price: $114.00
4 Years TTL Term Coverage with 48 Hour Quick Swap & White-Glove for 32'' MNT Signage
#MS32E1S2I0U
Our Price: $198.00
5 Years Warranties
5 Years TTL Term Coverage for 32'' MNT Signage
#MS32E20000U
List Price:
$125.00
Our Price: $117.00
5 Years TTL Term Coverage with 24 Hour Quick Swap for 32'' MNT Signage
#MS32E2S100U
List Price:
$170.00
Our Price: $137.00
5 Years TTL Term Coverage with 24 Hour Quick Swap & White-Glove for 32'' MNT Signage
#MS32E2S1I0U
List Price:
$309.00
Our Price: $209.00
5 Years TTL Term Coverage with 48 Hour Quick Swap for 32'' MNT Signage
#MS32E2S200U
List Price:
$168.00
Our Price: $133.00
5 Years TTL Term Coverage with 48 Hour Quick Swap & White-Glove for 32'' MNT Signage
#MS32E2S2I0U
List Price:
$306.00
Our Price: $205.00